STRATEGIC PLAN
The Board of Trustees has formulated Strategic Plans since 2015. The current plan is:
GALLATIN RIVER RANCH RURAL FIRE DISTRICT
2022 STRATEGIC PLAN
The 2022 Strategic Plan below is a continuation of the efforts that began in 2017.
Near Term Considerations:
The fire station project will move forward to completion if possible during FY 2023.
Sale or disposition of surplus equipment.
Recruitment, an ongoing process.
Completion of water access project.
 Medium-term Considerations:
Continue discussions and decisions regarding consolidation with the Manhattan Rural Fire District.
Long-term Considerations:
Relationship with Manhattan RFD within a new consolidated fire district.
Capital acquisitions/replacements – apparatus
Replacement of Tender-11
Approved by the Board of Trustees on 5/11/2022.
GRRFD MONTHLY SAFETY TIPS ARCHIVE
MOTOR VEHICLE CRASH TIPS
MOTOR VEHICLE CRASH SAFETY TIPS FROM THE GRR FIRE DEPARTMENT
If you are involved in a motor vehicle crash:
Do you see fire? Do you smell smoke or gasoline?
Do a quick injury check:

Are you hurt? Able to get out of the vehicle?
Is anyone else hurt?

If you see fire or smell smoke or gasoline and are able to walk:

Turn off the engine.
Get out of the vehicle.
Help others out of the vehicle if possible.
Move to a safe place upwind from the vehicle, then…

CALL 911!
If the weather is bad and there is no fire, smoke, or smell of gasoline:

Consider remaining in the vehicle with activated emergency flashers if the vehicle is not in a traffic lane and conditions allow.

If the vehicle is in a traffic lane:

Activate the emergency flashers.
Exit the vehicle and find a safe place to wait for help.

To the side and behind the vehicle.
Uphill and upwind if possible.

Set out LED road flares or other warning devices if available.
What happens next?

If there are no injuries, no fire, no leaking fluids:

The 911 operator will dispatch Montana Highway Patrol.
The officer will offer to contact a towing company if needed, but the vehicle owner does have the right to choose and contact their preferred towing service.

If there are injuries, fire, the smell of smoke, or gasoline or fluid leakage:

The 911 operator will dispatch the fire department, an ambulance, and Montana Highway Patrol
Assist others injured in the crash if you are able.
If you are the first to come upon a motor vehicle crash:
Stop a safe distance behind the crashed vehicle, out of the line of traffic.

Park uphill and upwind depending on conditions.

Activate your emergency flashers.
Call 911.

If you do not have phone service to reach 911:

Do a quick scene assessment (number of vehicles involved, are there injuries?) and move to a location where you have phone service; or
Ask another passerby or a passenger in your vehicle to go to a location where there is cell service.

Accurate location information is critical to 911.

Help crash victims to the extent you are able.
Set out LED road flares or other warning devices if available.
When emergency vehicles arrive:

Be prepared to move your vehicle as emergency personnel direct.
Be prepared to stay at the scene to provide information about the crash to law enforcement.
Suggested vehicle emergency tools:
4- or 5-pound fire extinguisher.
Window glass breaker with seatbelt cutter.
A working flashlight. A headlamp is strongly suggested.
A set of flashing LED road flare lights.

Avoid pyrotechnic road flares—they are a fire hazard.

Roadside emergency kit.
Gloves: tear/puncture-resistant work gloves and nitrile industrial gloves.
Extra cold weather protection during the winter (for example: hats, warm gloves).
Reflective high-visibility lightweight emergency vest.
EVACUATION PLAN
EVACUATION PLAN
GALLATIN RIVER RANCH RURAL FIRE DISTRICT
REGISTER FOR EMERGENCY NOTIFICATION
All GRR residents should register with the Gallatin County Emergency Management Community Notification System. This is the primary warning system Gallatin County uses to notify residents of emergencies, disasters, and evacuation orders. This can be found at: https://www.readygallatin.com/public-warning/community-notification-system/. Those who do not register for this system put themselves at risk of significant notification delays.
IN THE EVENT OF AN EVACUATION ORDER
Use the Primary Route over Nixon Bridge if the Community Notification System does not specify an evacuation route.
PRIMARY ROUTE: NIXON BRIDGE
All non-trailer traffic should travel to the Nixon Bridge by either Twin Rivers Cutoff or Horseshoe Gulch Road.
All trailer and motor home/RV traffic should travel to the Equestrian Center for staging in the parking area. This is done to prevent conflict between incoming emergency vehicles and large vehicle and trailer evacuation.

A Reservist or law enforcement officer will direct this traffic to evacuate via Nixon Gulch Road when that road is free of emergency vehicle traffic.
The Community Notification System may specify one of the alternative routes below if the Nixon Bridge route is unavailable or unsafe:
SECONDARY ROUTE: BACK GATE ON HORSESHOE GULCH ROAD
All traffic should travel to the back gate on Horseshoe Gulch Road to exit GRR, and then travel to the Logan Bridge on Horseshoe Cottonwood Road.
This route will be used if Nixon Gulch Road or the Nixon Bridge are unavailable
Vehicles of all types will evacuate to the Horseshoe Gulch Road rear gate.
Reservists or law enforcement will then direct traffic.

The main route will be to follow Horseshoe Cottonwood Road to Logan.
There may be "choke points" where traffic may be delayed in order to allow emergency vehicles to pass.
TERTIARY ROUTE: SAFE ZONE AT EQUESTRIAN CENTER
If the Primary and Secondary Routes are unsafe, residents will be directed to travel to the Equestrian Center parking areas.
Staff will direct vehicles to the appropriate parking area.
The Equestrian Center is centrally located and provides the largest fire-defensible space on GRR.
MY MEDICAL HISTORY FORMS
Seconds and minutes count in medical emergencies. Paramedics and EMTs meet you at what might be your worst moment. You may be too short of breath to answer their questions. You might be too ill to tell them all your medications, allergies, current medical problems, your next of kin or who to notify. You may not be able to tell them your name. You may not want them rooting around in your bathroom in search of all the little white pills you take, and then take time to identify them. The My Medical History form puts everything they need to know in format that they and the emergency department at the hospital can use quickly. By taking a few minutes to fill it out, you may help them save your life.
On behalf of every EMT, Paramedic, Nurse, and Doctor who may care for you in the future, please complete the My Medical History form. Put it on your refrigerator door or an obvious spot on your kitchen counter. If you have an advance directive, POLST, or durable medical power of attorney document not already on file at Bozeman Health, please attach a copy (or the original if it is a POLST) to your history form.
My Medical History For Paper 3:23:20
My Medical History For electronic completion 3:23:20
Below is an example of a completed My Medical History form:
Example of a completed My Medical History
COVID-19 INFORMATION AND RECOMMENDATIONS
MEDICAL EMERGENCY PREPAREDNESS
Medical emergencies require activation of the 911 system. Failure to do so increases emergency medical response times, which may have dire consequences. If you need someone to "check you over" with an injury or illness, calling a neighbor delays the response and puts your neighbor in a very difficult position even if they are medically trained. An injury, broken bone, serious bleeding, chest pain, shortness of breath, stroke, or being too weak to walk are only a few of the many things that require emergency medical services where time is critical.
Things you can do to improve your emergency medical preparedness:
HAVE YOUR CARDS:

Have an emergency medical card in your wallet.
Keep current medical insurance cards in your wallet.
Have an emergency medical information app on your phone.

HAVE YOUR MEDICAL HISTORY ON A FORM:

Fill out a My Medical History Form (on this website) and keep it current if anything changes.
Fill out a File of Life or similar medical history form and keep it current if anything changes.
Place either of the above on your refrigerator door or an obvious place on the kitchen counter.

If you don't want your friends looking over your medical history, put them in a labelled envelope.
Here are two versions of My Medical History:

HAVE A PLAN:

Make a checklist with numbers of who to call.
Have a medical "go bag" with supplies and clothing you would need if admitted to a hospital.
Inform family or friends of your plan.

KEEP THINGS CURRENT:

Make sure your medical record is current.
Make sure you identify where your medical record is on your medical card if that record is not in the Bozeman Deaconess system.

ORGANIZE MEDICATIONS:

Keep your medication list up to date on My Medical History or File of Life
Have current medications in one closable bin:

For easy inspection by emergency medical responders.
For easy transport to the hospital, if needed.

DURABLE POWER OF ATTORNEY FOR HEALTHCARE DECISIONS:

Decide who you want to act on your behalf to make your medical decisions if you are too sick to make those decisions yourself. That person should be a relative or friend who understands your values and wishes.
Complete a Durable Power of Attorney for Health Care

Have your medical provider scan this into their medical system.
Have Bozeman Health scan it into their computer system, since this is the most likely hospital you will be taken to in an emergency, even if your medical provider is not in that system.
Keep the original copy in a safe place.
Attach it to your My Medical History form if you do none of the above.
Here is the form for the State of Montana. You don't need a lawyer!

DECIDE IF YOU WANT TO PLACE LIMITATIONS ON YOUR MEDICAL CARE:

Determine if you want any limitations on your healthcare in advance and communicate them to those people who may be called upon to make medical decisions on your behalf if you become unable to make them. Your Healthcare Power of Attorney must know your wishes.
 Unless you specify otherwise in writing, Emergency Medical Providers will do everything in their power to save your life, including performing CPR, putting a breathing tube down your throat, and starting intravenous lines.
If you do not want all of those, or if you want to limit them, you must have a fully completed Montana Provider Order for Life-Sustaining Treatment (POLST) form readily available at your home. Your POLST has to be signed by you and your medical provider. An unsigned POLST cannot be honored. The POLST form must be in a clearly labeled envelope either on your refrigerator door or kitchen counter top. EMTs will not search your home for this document. Keep it with your My Medical History or File of Life forms.
Other Living Will documents should be kept in the same places, and should be on file with Bozeman Health in case you are brought to the hospital, even if your medical provider is not in that system.
Here are examples of decisions you can make.

Some people want "full treatment", meaning CPR if their heart stops, a ventilator (breathing machine hooked up to a tube going into your windpipe) if they have respiratory failure, tube feedings if they can't eat, any surgery needed to sustain life.
Some people want CPR and/or the ventilator but if things are bad enough, not to receive tube feedings.
Some people want to receive standard care with IVs, antibiotics, other medications and needed surgery, but do not want CPR, a ventilator, or intensive care unit care. If they are dying, they want to be kept comfortable but not receive "medical heroics".
Some people want no CPR, ventilator, or intensive care. They want to be kept comfortable, preferably at home and only go to the hospital if they can't be kept comfortable at home.
Here is the POLST document:
GRANT AWARDS
FY 2019 FEMA ASSISTANCE TO FIREFIGHTERS GRANT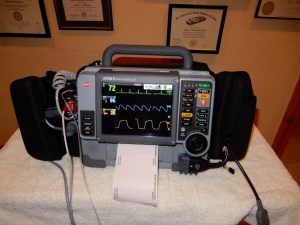 The Gallatin River Ranch Rural Fire District is pleased to announce the award of a FEMA AFG grant in the amount of $37,619 for a total project budget of $39,500. The grant award was announced on 8/11/20. This grant enabled GRRRFD to purchase a new Lifepak-15 cardiac monitor/defibrillator, shown above, and a McGrath video laryngoscope, shown below.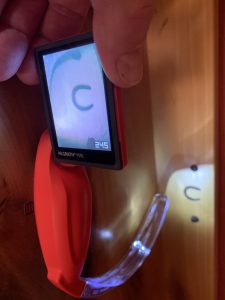 The GRRFD is licensed as a Non-transporting Basic Life Support Agency With Authorization for Advanced Life Support. The advancement to this level two years ago was due to the extensive upgrades the service began in 2017, including the fundraiser and purchase of a refurbished Lifepak 12 defibrillator/monitor, and the fact that the service is one of the few in the state with a licensed MD as a frontline provider. The Lifepak 12 is older technology, but the best the department could afford at the time. That unit, however, is no longer being supported by Stryker/Physio-Control. The Manhattan Volunteer Fire Department and AMR, our two main supporting agencies, both routinely use the newer LifePak 15.
GRRRFD purchased a new Lifepak 15 with funds from the grant. This makes us both compatible and inter-operable with all the other agencies in the Gallatin Valley. The LifePak 12 is in excellent condition and will be kept in reserve as a backup. A new 4G modem was purchased with much appreciated help from Bozeman Deaconess Hospital in 2019.
The COVID-19 pandemic has led to acute respiratory failure in a number of its victims. Some of these patients need urgent endotracheal intubation–the insertion of a breathing tube through the throat into the wind pipe. Placement of these tubes exposes the operator and those present to infectious respiratory aerosols. The use of a video laryngoscope helps reduce this risk and is a safer, quicker, and more efficient way to perform this procedure. Our MD/EMT is a retired pulmonary/critical care medicine physician and is very experienced with this technique and technology. We hope we will never need to intubate anyone, but this equipment will help keep everyone safer.
Our thanks to the FEMA AFG Grant Program for the award!
2020 RURAL FIRE CAPACITY GRANT
The GRRRFD is pleased to announce that it will share in a Rural Fire Capacity Grant in 2020. This is a regional grant sponsored by the Gallatin County Fire Council. Kevin Larsen, the Operations Manager at Gallatin County Emergency Management did the leg work on the grant, and our thanks to him and the Council.
This is a regional grant the Fire Council applies for each year. The total grant award of $13,500 will be distributed to seven departments; GRRRFD's share is $1,928. The District will contribute an additional 10% or more to the budget. This will enable the District to purchase a wildland fire shelter, fire shelter trainer, two nozzles, adapters and couplings, headlamps, and two wildland firefighting backpacks.
The GRRRFD has used this grant to update firefighter wildland PPE and equipment each year. Our thanks to Kevin Larsen, the Fire Council, and the Montana Department of Natural Resources and Conservation that funds and manages the grant program.
FIREHOUSE SUBS PUBLIC SAFETY FOUNDATION GRANT AWARD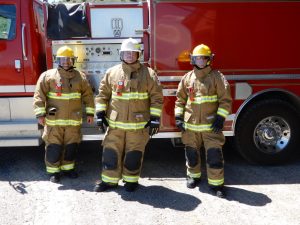 The Gallatin River Ranch Rural Fire District is pleased to announce the award of a grant in the amount of $8773 from the Firehouse Subs Public Safety Foundation. This grant will fund the purchase of three sets of Globe structure firefighting personal protective equipment (PPE) including helmets with visors, hoods, coats, gloves, trousers with suspenders, and boots. This equipment will provide three of our firefighters with the latest in safety equipment for fighting structure fires.
The GRR Rural Fire District Trustees and the members of the GRR Fire Department are grateful to the Firehouse Subs Public Safety Foundation for this generous award. It allows the department to replace its last three sets of old structure firefighting PPE and improve firefighter safety.
ABOUT THE FIREHOUSE SUBS PUBLIC SAFETY FOUNDATION
In 2005 the Firehouse Subs Founders established the 501(c)(3) non-profit Firehouse Subs Public Safety Foundation. The charity provides funding resources, lifesaving equipment, prevention education, training, and disaster relief support to first responders and public safety organizations. Since inception, Firehouse Subs Public Safety Foundation has granted more than $48 million to hometown heroes in 49 states and Puerto Rico, including more than $217,000 in Montana.
Firehouse Subs Public Safety Foundation is honored to be listed as a four-star non-profit organization by Charity Navigator, their highest designation. Donations made at Firehouse Subs restaurants help provide the funding for this grant award.
We encourage GRRHOA members to remember Firehouse Subs when they get a hankering for a submarine sandwich!
TOWN PUMP CHARITABLE FOUNDATION GRANT AWARD
The Town Pump Charitable Foundation awarded GRRRFD $5,000 toward the purchase of nine new MSA G1 4500 psi 45-minute air cylinders. The total cost for these air cylinders is $8,055. We thank the Foundation for their generous award, all of which was used to help defray the cost of these new cylinders.
The Town Pump Charitable Foundation provides grant support to fire and public safety organizations throughout Montana each year. They also provide financial support to a number of other charities and non-profit organizations, all of which strive to make our state a better place to live. When you get a chance, give the staff at the Town Pump a word of thanks!
NEW FIRE STATION PROJECT
GRRRFD FIRE STATION PROJECT
There are three critical components to a fire department: firefighters, firefighting equipment and apparatus, and a fire station. The fire station is necessary to keep firefighting vehicles in a heated and secure building with keys in the ignition, ready to roll on a moment's notice.
The GRRRFD has purchased a 50% interest in the property and a 40% section of the GRRHOA maintenance building located at 5770 Nixon Gulch Road. The fire station is in the 2400-foot section behind the northern two bay doors. The station will house our firefighting vehicles and provide for cleaning and safe storage of firefighting equipment. The cost of purchasing and finishing a section of this existing building will save taxpayers a significant amount compared to the construction of a completely new fire station building.
Construction began on 7/21/22 by 406 Custom Builders with financial support from Manhattan Bank. Completion was expected in the fall of 2022 but a number of delays pushed this back a year. The work is now nearly done. We anticipate completion of the concrete treatment on 9/12. We will begin moving gear into the facility around that time and move our vehicles to the building by the end of September, 2023. We plan to have a Grand Opening celebration after that.
PLEASE DONATE!
The GRR Rural Fire District is seeking further donations from the public to help pay for the new station. The GRR community has been very generous in the past and we hope that will continue with this vital community project. Please consider making a donation that will add significant benefit to public safety in our community. Donations are tax-deductible under section 170(c)(1) of the IRS Code. The GRRRFD is a governmental public service entity and all funds donated are used for public purpose. To make a donation, contact us at [email protected]. Donation checks can be made out to GRR Rural Fire District and mailed to GRR Rural Fire District, PO Box 109, Manhattan, MT 59741
GRRRFD REPORTS TO TO GRRHOA ANNUAL MEETINGS
FIRE DISASTER PREPAREDNESS
Disaster preparedness is similar in concept to general disaster preparedness. Review the Gallatin County readygallatin.com website for additional information.
Steps to take include:
BE INFORMED:

Sign up for the Gallatin County Community Notification System at: readygallatin.com/public-warning/community-notification-system/.
Review the Gallatin County readygallatin.com Ready, Set, Go! Wildland Fire Action Guide.

BE FINDABLE:

Place highly visible street address numbers at your roadside and on the entry to your home. Reflective numbers at the roadside are recommended.

HAVE A PLAN:

Have fire extinguishers and know how to use them.
Know the locations of the gas and power shut-off controls are for your home and all buildings.
Know of at least two evacuation routes.
Have a "go bag" ready with the things you will need in case of evacuation.
Know what you will need to take with you and only take the things you can't live without and can load in your vehicle(s) in less than 15 minutes.

Have a checklist of what you will take.

Have an emergency water and food supply in case you are instructed to "shelter in place".
Have a designated rally point outside of the immediate area, if relevant for your family members and have a known communication plan.
Go to the following website for more information: https://www.nfpa.org/Public-Education/Staying-safe/Preparedness/Escape-planning.

EVACUATE WHEN ORDERED TO DO SO:

Don't question or disobey evacuation orders from emergency personnel. Act immediately.
WILDLAND FIRE PREPAREDNESS FOR NEW HOME CONSTRUCTION
Gallatin River Ranch is a Wildland-Urban Interface, where homes are built in one of many areas where wildland fires occur. There have been two wildland fires on GRR since 2010; it is not a matter of whether, but when the next one will occur. Everyone living on GRR has a responsibility to do their part to prevent wildland fires. New home construction is one opportunity to review proven methods, techniques, and materials to mitigate the risk of property loss and propagation of wildland fires. This requires a team effort by the property owner, the home and landscape designers, and construction and landscaping contractors.
The GRRRFD provides GRRHOA members with free Wildland Risk Assessments. Please consider an assessment any time the snow is not on the ground. Contact Chief Sprow or email [email protected] to arrange an assessment.
Visit the Firewise USA, FireSafe Montana, MT DNRC, and Headwaters Economics websites for useful information about wildland fire preparation for new and existing homes: LINKS TO WILDLAND FIRE PREVENTION WEBSITES
Review: https://www.readygallatin.com/download/website/handouts/wildfire/wildfire.pdf.
Consider your building site:

Avoid building on the top of a funnel, such as the upper end or top of a draw or canyon.

Fire spreads quickly  uphill, especially in funnels.

Consider ease of access for firefighting vehicles and firefighters should your property be threatened by a wildland fire.
Landscape plans:

Create defensible zones of protection around each structure on your property.
Use fire-resistant vegetation in your landscaping plan. Look at the following publication:
Choice of building and roofing materials

Use fire resistant material.
Metal, tile, or asphalt roofing materials. Do not use wooden shingles.
Place screens on fireplace flues.
Avoid open soffits and use proper soffit vents.

Consider installing an interior sprinkler system.
Consider installing an underground water cistern. Locate this outside of the potential "collapse zone" if the building were to catch fire and collapse.
Plan to locate wood piles at least 30 feet away from buildings.
Plan proper ventilation for hay storage buildings, and locate these buildings well away from homes, 30 or more feet.
Place highly visible street address numbers at your roadside and on the entry to your home. Reflective numbers at the roadside are recommended. Place these before construction begins.
WILDLAND FIRE PREPARATION FOR FINISHED BUILDINGS
Recent fire seasons have been brutal lessons for those living in the Wildland Urban Interface (WUI), which includes the Gallatin River Ranch Rural Fire District (GRRRFD). People who choose to build or buy homes or other buildings  surrounded by wildland are wise to learn from the bitter experience of those affected by wildland fires. Residents within GRRRFD should take a critical look at their fire risk, and mitigate those risks to the greatest degree possible.
The GRRRFD provides GRRHOA members with free Wildland Risk Assessments. Please consider an assessment any time the snow is not on the ground. Contact Chief Sprow or email [email protected] to arrange an assessment.
Plan. Prevent. Prepare.
Place highly visible street address numbers at your roadside and on the entry to your home. Reflective numbers at the roadside are recommended.
Control the height of roadside grass and weeds on your property.
Make efforts to control cheat grass on your property (this is highly flammable).
Create an inner zone of defensible space 30 feet around each structure on your property.

The inner zone should consist of watered green grass or fire-resistant material such as rock borders, concrete driveways, patios, and walls.
No flammable materials (such as wood piles) should be stored within this zone.
Avoid planting trees or shrubbery within the inner zone.
Strongly consider removing trees and shrubs that may already exist within this zone, especially conifers.

Create an outer zone of protection from 30- to 100-feet from each structure on your property

Mow a wide perimeter outside your lawn before the grass dries out in June.
Avoid mowing this area under dry conditions from July to October.
If you must mow, carry a fire extinguisher while you work.
Limit shrubbery and trees to the outer perimeter. Avoid plantings upwind from structures to limit flying ember danger. Plan fire-retardant species rather than conifers, especially upwind from structures.
Remove dead shrubbery and/or trees in the outer perimeter.
Consider the direction of prevailing winds, which on GRR are generally west to east. Flying embers from native junipers can travel great distances in high winds. Consider removal up upwind junipers.

Know the location of your electrical breaker box.
Mark the location of underground propane tanks with a reflective marker stick.
Mark the location of underground water cisterns with reflective marker sticks.
Do not pile wood against the house; consider placing it inside a building or a distance downwind from the house.
Locate ABC fire extinguishers in locations prone to fire: kitchen, shop, garage, utility room, and within quick access to fireplaces.
Keep combustible or flammable materials away from ignition sources.
Only use extension cords that are in good condition.
Use space heaters with caution.
Maintain furnaces and water heaters.
Install and maintain smoke and carbon monoxide detectors. Replace batteries yearly.
Keep matches and other means of setting fires away from children.
Have a plan:
REDUCING COMMUNITY WILDLAND FIRE RISK
Wildland fires are a community threat. All community residents have a responsibility to mitigate the threat. What can you do?
Your vehicles:

Keep an ABC fire extinguisher in each vehicle.
Don't toss cigarettes or other smoking materials on to roads, roadsides, or lawns. Better: quit smoking; you'll need EMS less often!
Don't park in places where uncut grass or brush can reach the bottom of your vehicle.
Don't drive on roads with tall dry grass growing in the middle of the road.

Debris burning and controlled burns:

Outside Gallatin River Ranch: follow and obey Gallatin County Burn regulations and restrictions.
"Controlled burns" and debris burning are prohibited on Gallatin River Ranch at all times.
GRRHOA CC&R 7.1 h) states: No garbage, trash or unsightly debris, organic or inorganic waste shall be collected and/or permitted by an Owner to accumulate on any Parcel or in any road adjacent thereto, but shall be promptly and efficiently disposed of, and no vacant lands or other Parcel shall be used as a dump ground or burial pit by any Owner.
GRRHOA CC&R 7.2 g) states: No external burning of refuse or other materials shall be permitted on any Parcel without the specific approval of the Association. The Association may set aside "controlled burning" days at their discretion. No Owner shall do any act or permit the continuance of any condition that creates an unnecessary or unreasonable risk of fire and shall follow the rules for fire prevention and protection established by the Association.

Outdoor fires:

Fires outside fire pits or other outdoor fire devices are not permitted on Gallatin River Ranch.
Open fire pits and containerized fires (manufactured fire devices, chimeneas, outdoor fireplaces):

Should not be used under windy conditions.
Should always be covered with a screening device.
Should be attended at all times until cold and dead.
Should be doused with water until cold to touch before they are left unattended.

Lawn equipment:

One spark can ignite a grass fire.
Try to mow only green grass.
Have a fire extinguisher within reach when mowing roadsides.

Recreational activities:

Fireworks are not permitted on Gallatin River Ranch except on New Year's Eve.
Outside Gallatin River Ranch, follow Gallatin County fireworks regulations.
Discharge of firearms is prohibited on Gallatin River Ranch.
Target shooting on State land adjacent to Gallatin River Ranch should only occur when grass is green. They should clear an area around their target(s).
LIFE IN THE WILDLAND URBAN INTERFACE
Every home on Gallatin River Ranch is a wildland urban interface. That is the nature of building in rural Montana. Fires are an intrinsic part of Western American ecology. For any rural property in Montana, it is not a question of whether there will be a fire. The questions are when and how to mitigate it.
The matter of when a fire will affect Gallatin River Ranch depends on many things and people over which GRRRFD has limited control. Gallatin River Ranch residents and their guests can do a number of things to mitigate the risk of fire, but the Cottonwood Fire in 2015 was caused when a hot pickup truck exhaust ignited dry grass on a ranch road between Logan and GRR. We were lucky: no lives or homes were lost. Luck has no place in a plan, however. We are at the mercy of random events: a lightning strike, the spark from a lawnmower blade hitting a rock, an ember that escapes someone's fire pit, a smoker tossing his butt out the window of his pickup.
The FAQ section in this website includes a number of specific topics for your information.
http://gallatincomt.virtualtownhall.net/public_documents/gallatincomt_plandept/Plans&Policies/GC_CWPPb.pdf
BOARD OF TRUSTEE MEETING RECORDS
Meetings of the Board of Trustees posted on this website begin with the 2017-18 fiscal year. Older meeting minutes and reports are available upon request.
Agendas for upcoming meetings are posted no later than 48 hours prior to a Board meeting. Minutes are posted after they are approved by the Board. Chief's reports and financial reports are posted after they are approved or reviewed in a Board meeting. The financial reports are then posted to the month they cover, though they are typically not reviewed at the board meeting of the month reported. This is done for clarity.
WILDLAND FIRE EDUCATION RESOURCES