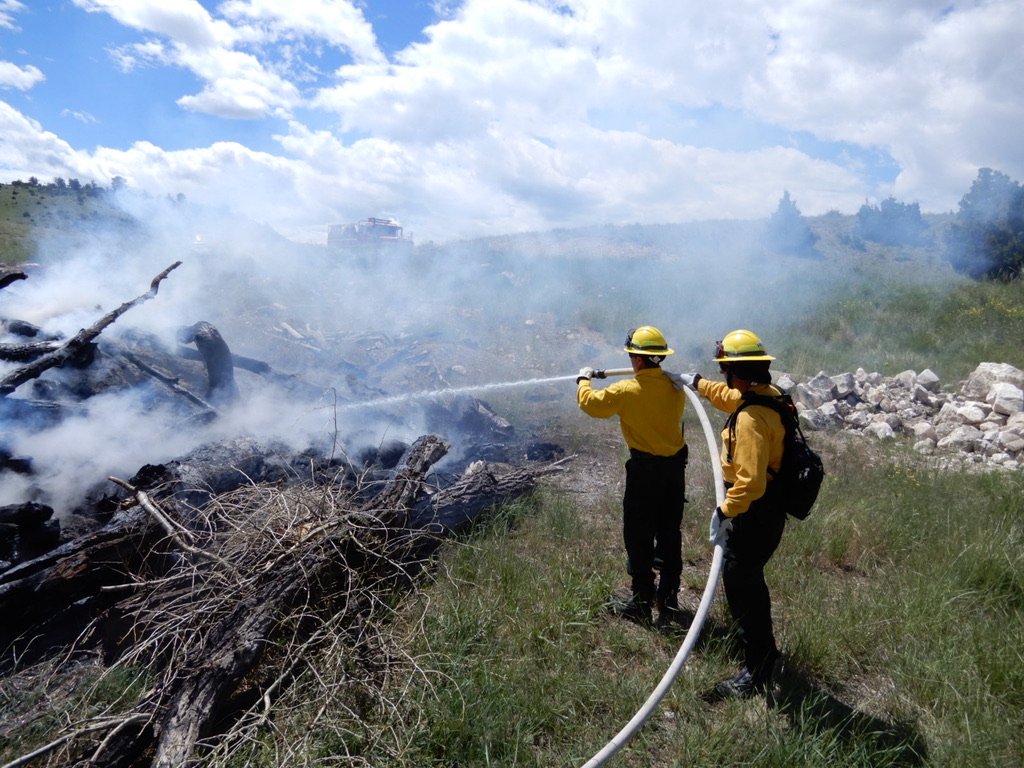 Gallatin River Ranch Fire Department
The Gallatin River Ranch Fire Department provides fire, rescue and emergency medical services for the Gallatin River Ranch Rural Fire District located north of Manhattan, MT. The Fire District was established in December, 1999, by the Gallatin County Commission. The District covers about 9 square miles, 90 structures, and a full-time population of about 150. The GRR Fire Department was then organized under the supervision of an elected Board of Trustees. From 1999 to 2017 the department was run by a paid chief. The fire department changed to an all-volunteer model in May of 2017. The department is led by Chief Marlin Sprow and includes volunteer firefighters as well as reserve and auxiliary members and the Wildland Fire Preparation and Prevention Committee.
FIRE STATION PROJECT
The Board of Trustees approved a project budget of $450,000 at their 5/11/22 meeting. Manhattan Bank will provide financing and 406 Custom Builders has been selected as the builder. Construction began on 7/21/22. Please look at the Gallery: New Fire Station section to follow the progress of the building process.
The GRRRFD Fire Station will house Engine-11, Brush 11-1, Tender-11, and Utility-11 in a location less than five road miles from every dwelling on GRR. This is the optimal location and configuration to meet the fire and emergency services needs of the GRRRFD community. The Fire District will devote around $150,000 in available funds to the project. A Fundraiser Campaign to reduce the amount of bank financing required to pay for this critical community safety project is underway. Please consider making a tax-deductible donation (under section 170(c)(1) of the IRS code), and mail it to GRRFD, PO Box 109, Manhattan, MT 59741.
SAFETY TIPS FROM THE GRR FIRE DEPARTMENT
AUGUST 2023
The wildland fire season is in full swing. We've been lucky so far this summer while huge fires burn elsewhere, but luck has no role in wildland fire preparation or prevention.
Parched grasses and other fuels burn hot and fast, especially on hot, windy days. "Red Flag Days" are the most hazardous.
A Burn Ban was enacted on 7/26/23 and will likely remain in effect until the fall. This prohibits fires in the Picnic Area fire pit but does not prohibit continuously supervised fires in home outdoor fireplaces, screened fire pits, or chimeneas. Don't use these on Red Flag days or in windy conditions. The fire must be doused with water until cold to touch when you are done. Never leave a fire unattended or let it "burn itself out" when you finish enjoying your fire. Fireworks and other pyrotechnics are prohibited during Burn Bans.
Other things you can do include: 1. avoid driving on back roads where un-mowed grass or weeds grow in the middle of the roadbed; 2. avoid parking along the sides of roads where vegetation might catch fire underneath your vehicle; 3. carry a 4-pound or larger fire extinguisher in each vehicle.
Consider getting a free Wildland Fire Risk Assessment from the GRR Fire Department. Contact Chief Sprow [email protected], or email [email protected] to set up an appointment.
August is a good time for homeowners to walk their property with wildland fire risk reduction in mind. Check out the GRRFD website Getting Informed section for more information about wildland fire preparedness recommendations: https://www.grrrfd.org/get-informed/
Construction on the new GRR Fire Station is nearing completion. The floor drains and concrete work are done. All that remains is to treat the concrete and install a compressed air system. We will move into the station during September. A Grand Opening will take place after it is fully complete.
REGISTER FOR EMERGENCY NOTIFICATION
All GRR residents should register with the Gallatin County Emergency Management Community Notification System. This is the primary warning system Gallatin County uses to notify residents of emergencies, disasters, and evacuation orders. This can be found at: https://www.readygallatin.com/public-warning/community-notification-system/. This is the only system that provides immediate notification of pre-evacuation warnings and evacuation orders for properties in the GRR Fire District. With that in mind, please review the GRRRFD Evacuation plan in the GRRFD website: https://www.grrrfd.org/get-informed/
PLEASE DONATE
The GRR Rural Fire District is working on several projects that will significantly enhance safety for the people it serves. These include the Fire Station Project and the Water Source Project. Bids have been solicited for each project. The GRRRFD needs your help. Please consider donating to the GRRRFD. All donations will be used to defray the costs of the Fire Station Project. Donations to GRRRFD are tax-deductible under Section 170(c)(1) of the IRS Code. Please send donations to: Gallatin River Ranch Rural Fire District, PO Box 109, Manhattan, MT 59741. Thank you for considering us in your charitable giving plans!
NOTICE TO GALLATIN RIVER RANCH RURAL FIRE DISTRICT MEMBERS
Two Trustee positions were subject to election on May 2, 2023. Two candidates submitted their applications for the positions by the deadline. Susan Piechowski and Wendy Ward will be elected by acclamation on May 2 pursuant to 12-1-502(5) of Montana Code Annotated.
WE NEED VOLUNTEERS
The GRR Fire Department needs more firefighters, EMTs, and reserve members. Volunteer fire departments like ours are the backbone non-law enforcement rural emergency services. One of the best and most rewarding ways to serve your community is to volunteer to join the fire department. If you are interested, please email us at: [email protected]. For more information, look at the Get Involved section of this website.
GRRRFD WATER SOURCE PROJECT
The GRRRFD has added new firefighting water resources at Castle Rock Pond and Mossy Rock Pond.
The Castle Rock Pond project is finished.
A 6-inch pipe was trenched into the pond with a siphon at the end of underwater portion of the pipe. The pipe "daylights" with a "dry hydrant" in a location accessible to fire engines. This project significantly improves water availability on GRR. This adds to the Fire District's effort to improve the quality and effectiveness of fire protection on GRR. At its fullest, this pond is estimated to contain 2.2-million gallons. At its emptiest, it is probably less than a million but at least 500,000 gallons. The access spur road to the dry hydrant has a Fire Lane, No Parking sign in place.
Another private pond on the southeast side of GRR has been made available by a generous property owner. If you have, or plan to construct a pond, consider allowing the fire department to access it for firefighting use in the event of a large fire. Contact Chief Sprow for details.
Mossy Rock Pond already has a 6-inch pipe that goes from the pond bottom to the pump house across the road from the pond. This well-fed artificial lined pond contains about 1.1-million gallons. The GRRFD has built a short spur road to the side of the pond to enable fire vehicles to draft water directly from the pond. This will more than double the rate we can pull water from the pond in the event of a fire.
CASTLE ROCK POND WATER SOURCE PROJECT  DRY HYDRANT FOR WATER SOURCE PROJECT
WILDLAND FIRE PREPARATION AND PREVENTION
Wildland fires are a year-round risk due to persistent drought and warming. They can occur any month when conditions are right.  It is not a question of if, but when the next wildland fire will affect the GRR Rural Fire District.
The GRR Fire Department recommends that all property owners carry an ABC fire extinguisher in each vehicle, including ATVs and UTVs, to use in event of a fire. Vehicles should not travel off-road and should not travel along roads where un-mowed grass is present in the road bed due to the risk of hot exhaust systems igniting dry grass.
GRR Rural Fire District residents should register for the Gallatin County Emergency Notification System at:  https://www.readygallatin.com/public-warning/community-notification-system/. Please explore the Get Informed Education section of this website to review the Evacuation Plan and other information about wildland fire preparation and mitigation. This is particularly important for new GRR Rural Fire District residents.
The Wildland Fire Preparation and Prevention Program was established by the GRRRFD Trustees. A volunteer Wildland Fire Preparedness Committee was formed to facilitate this program. The Committee organized and mailed packets of information to all current GRRHOA owners in April of 2021. Packets have been given to Luna Properties for inclusion in the Welcome Packet the GRR HOA sends to new owners. Information about fire resistant landscaping will be sent to GRRHOA members who apply for Architectural Review Committee building project approval as a reminder.
---
Upcoming Events
10/18/2023 BOARD OF TRUSTEES MEETING

Wed. Oct. 18th, 2023 @ 4:10pm
View More 
---