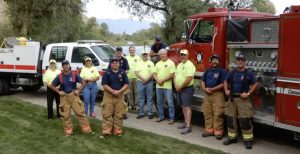 Gallatin River Ranch
Fire Department
The Gallatin River Ranch Fire Department provides fire, rescue and emergency medical services for the Gallatin River Ranch Rural Fire District located north of Manhattan, MT. The Fire District was established in December, 1999, by the Gallatin County Commission. The District covers about 9 square miles, 90 structures, and a full-time population of about 150. The GRR Fire Department was then organized under the supervision of an elected Board of Trustees. From 1999 to 2017 the department was run by a paid chief. The fire department changed to an all-volunteer model in May of 2017. The department is led by Chief Marlin Sprow and includes volunteer firefighters as well as reserve and auxiliary members.
Fire Station Project
For information on the Fire Station Project, please open the Announcements section. Also look in the Get Informed Education section. As of 11/18/19, the raffle has raised $9,178, which more than covers its expenses. The goal is to raise much more. The amount raised in donations is $1,350. We hope many more donations will be made.
---