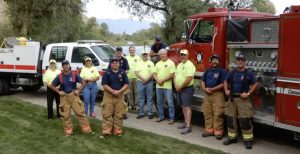 Gallatin River Ranch Fire Department
The Gallatin River Ranch Fire Department provides fire, rescue and emergency medical services for the Gallatin River Ranch Rural Fire District located north of Manhattan, MT. The Fire District was established in December, 1999, by the Gallatin County Commission. The District covers about 9 square miles, 90 structures, and a full-time population of about 150. The GRR Fire Department was then organized under the supervision of an elected Board of Trustees. From 1999 to 2017 the department was run by a paid chief. The fire department changed to an all-volunteer model in May of 2017. The department is led by Chief Marlin Sprow and includes volunteer firefighters as well as reserve and auxiliary members.
WE NEED VOLUNTEERS
The GRR Fire Department needs more firefighters, EMTs, and reserve members. Volunteer fire departments like ours are the backbone non-law enforcement rural emergency services. One of the best and most rewarding ways to serve your community is to volunteer to join the fire department. If you are interested, please email us at: info@grrfd.org. For more information, look at the Get Involved section of this website.
WILDLAND FIRE PREPARATION
The wildland fire season is nearly done. However, fuels remain dry and the risk of fire persists, though the level of risk is lower with the onset of colder weather. However, it is time to think about next season and make preparations.
The Bridger Foothills Fire destroyed 68 structures including 30 homes. Residents from the affected area had to evacuate, some or relatively short notice. While conditions on GRR are quite different, the Ranch is at risk for wildland fires. Evacuation orders were issued in the 2015 fire the burned many acres on GRR and threatened homes, though none were lost. These serve as warnings that residents of the GRR Rural Fire District must be prepared for the possibility of evacuation and wildland fire.
GRR Rural Fire District residents should register for the Gallatin County Emergency Notification System at:  https://www.readygallatin.com/public-warning/community-notification-system/. Please explore the Get Informed Education section of this website to review the Evacuation Plan and other information about wildland fire preparation and mitigation. This is particularly important for new GRR Rural Fire District residents.
The Wildland Fire Preparation and Prevention Program was established by the GRRRFD Trustees. A volunteer Wildland Fire Preparedness Committee was formed to facilitate this program. The Committee organized and mailed packets of information to all current GRRHOA owners in April of 2021. Packets have been given to Luna Properties for inclusion in the Welcome Packet the GRR HOA sends to new owners. Information about fire resistant landscaping will be sent to GRRHOA members who apply for Architectural Review Committee building project approval as a reminder.
COVID-19
The COVID-19 Pandemic is widespread. The GRR Fire Department has developed response protocols and fire department personnel have been trained.
We're all in this together and need to pull together as a community. Viruses don't care about political or religious views. We will be more successful as a community if we work together in rational ways. PLEASE LOOK AT THE GET INFORMED/EDUCATION SECTION OF THIS SITE FOR MORE DETAILS.
Be Informed
The best sources for information on the pandemic and what you should do are posted on the Centers for Disease Control and Prevention (CDC) website, https://www.cdc.gov, and the World Health Organization website: https://www.who.int. Major news organizations such as the New York Times, Wall Street Journal, and Washington Post have maintained timely reporting as have the major TV news outlets. Beware of "news" and other "information" reported on social media outlets. Deliberate deception and misinformation has been rampant in social media.
Respect
Wear a fabric face mask when in public places, particularly indoors, when social distancing is not possible. This is the best way to show your respect for your fellow Americans. It is also has the best return on investment of any preventive measure to help control this virus.
Respect this virus. Respect the fact it is readily spread from person to person. Respect the fact that it kills. However, the vast majority of people infected with this virus will live and recover fully.
Respect your family, friends, and neighbors by not sharing the virus with them if you are sick or exposed.
If you are exposed or have symptoms, contact your medical provider or the public health department (406-582-3100) to determine if you need to see a medical provider or have testing. Symptoms can occur between 2-14 days after exposure. Common symptoms include: fever (more than 100 degrees F, and if you don't have one, get a thermometer that works), cough, shortness of breath, loss of the sense of smell, headache, and fatigue. COVID-19 can feel a lot like influenza. Other symptoms include: aching or painful muscles and fatigue; nausea and diarrhea can occur but are rare. Even if you think you "just have a cold" or "It's just the flu", stay at home until you're well and don't share it. Call 911 only for medical emergencies.
How do I protect myself?
Wear a cloth face mask when you share public spaces with others. This provides you with some protection against the virus, and helps prevent you from spreading the COVID-19 virus as well as cold and influenza viruses. Prevention of colds and flu are particularly important this winter. People who come down with colds or the flu must quarantine and be tested just like people who develop COVID-19 since the early symptoms of all three overlap. Research has proven the effectiveness of face masks, and it appears they might be our most cost-effective way to keep America open for business.
Wash your hands with soap and water for at least 20 seconds after contact with others, after coming back home from the store, after social contact, and before meals. Regular non-bacterial soaps and detergents are very effective in killing this virus. Routine detergent-based laundering of clothing is very effective. The hotter the water the better, depending on the fabric.
Use hand sanitizer with at least 60% alcohol.
Show respect and don't shake hands or hug or kiss cheeks in greeting others.
Avoid crowds. Practice social distancing by staying at least six feet from others. But, don't stop living.
Avoid touching your face in social circumstances. This is easier said than done!
Look at the Get Informed/Education section of this website for more details.
FIRE STATION
For information on the Fire Station Project, please open the Announcements section. Also look in the Get Informed Education section.
---