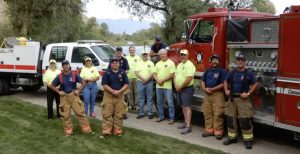 Gallatin River Ranch Fire Department
The Gallatin River Ranch Fire Department provides fire, rescue and emergency medical services for the Gallatin River Ranch Rural Fire District located north of Manhattan, MT. The Fire District was established in December, 1999, by the Gallatin County Commission. The District covers about 9 square miles, 90 structures, and a full-time population of about 150. The GRR Fire Department was then organized under the supervision of an elected Board of Trustees. From 1999 to 2017 the department was run by a paid chief. The fire department changed to an all-volunteer model in May of 2017. The department is led by Chief Marlin Sprow and includes volunteer firefighters as well as reserve and auxiliary members.
WE NEED VOLUNTEERS
The GRR Fire Department needs more firefighters, EMTs, and reserve members. Volunteer fire departments like ours are the backbone non-law enforcement rural emergency services. One of the best and most rewarding ways to serve your community is to volunteer to join the fire department. If you are interested, please email us at: info@grrfd.org. For more information, look at the Get Involved section of this website.
GRRRFD WATER SOURCE PROJECT
The GRRRFD has proposed to place 6-inch PVC buried pipes into Castle Rock Pond and Mossy Rock Pond. Each will be trenched under ground into the pond with a siphon at the end of the pond-side of the pipe. The pipe will "daylight" with a "dry hydrant" in a location accessible to fire engines. We have a dry hydrant like this next to the pump house at River Camp. This project will significantly improve water availability on GRR. This will add to the Fire District's effort to improve the quality and effectiveness of fire protection on GRR. The Mossy Rock Pond is estimated to hold about 1.1-million gallons. Castle Rock Pond varies in volume. At its fullest it is estimated to contain 2.2-million gallons. At its emptiest, it is probably less than a million but probably at least 500,000. The GRRRFD hopes to complete the Castle Rock Pond project this fall, perhaps November. The timing of the Mossy Rock project remains to be determined. Below is a photo of the above-ground dry hydrant that will be installed and the location of the Castle Rock Pond part of the project. A similar system will be constructed along between Mossy Rock Pond and Horseshoe Gulch Rd with a suitable road setback. These will enable fire engines to draft water directly from the ponds which will markedly increase the amount of water available for firefighting on GRR.
CASTLE ROCK POND WATER SOURCE PROJECT  DRY HYDRANT FOR WATER SOURCE PROJECT
WILDLAND FIRE PREPARATION AND PREVENTION
The wildland fire season is drawing to a close However, wildland fires are becoming less seasonal due to persistent drought and warming. They can occur any month when conditions are right.  It is not a question of if, but when the next wildland fire will affect the GRR Rural Fire District.
The GRR Fire Department recommends that all property owners carry an ABC fire extinguisher in each vehicle, including ATVs and UTVs, to use in event of a fire. Vehicles should not travel off-road and should not travel along roads where un-mowed grass is present in the road bed due to the risk of hot exhaust systems igniting dry grass.
For those thinking about New Year's Eve fireworks, which are permitted on GRR when whether permits and with the permission of the Fire Chief, consider the following. First, only consider them if the ground is snow-covered–not a little patch here or there, but a blanket of snow in the area surrounding your proposed fireworks. And, only consider them when there is minimal wind. Better, take a drive into Bozeman; lots of people shoot fireworks in town.
GRR Rural Fire District residents should register for the Gallatin County Emergency Notification System at:  https://www.readygallatin.com/public-warning/community-notification-system/. Please explore the Get Informed Education section of this website to review the Evacuation Plan and other information about wildland fire preparation and mitigation. This is particularly important for new GRR Rural Fire District residents.
The Wildland Fire Preparation and Prevention Program was established by the GRRRFD Trustees. A volunteer Wildland Fire Preparedness Committee was formed to facilitate this program. The Committee organized and mailed packets of information to all current GRRHOA owners in April of 2021. Packets have been given to Luna Properties for inclusion in the Welcome Packet the GRR HOA sends to new owners. Information about fire resistant landscaping will be sent to GRRHOA members who apply for Architectural Review Committee building project approval as a reminder.
WINTER FIRE AND SAFETY PREPARATIONS
While the risk of wildland fires decreases in the winter, the risk of structural fires persists, and, in some cases, increases. Fireplaces should be cleaned and inspected; smaller flues, especially those heating with wood, should be cleaned regularly (the frequency depends on the frequency of fires in the wood stoves or furnaces). Consider a web search to learn more about how to prevent and manage fireplace flue fires if you have a wood-fueled fireplace. If you haven't already done so, think about replacing smoke detector and carbon monoxide detector batteries. These are best changed in the fall so they are at their freshest in the winter. An easy way to remember the time to do so is to either change them at the fall time change or at Thanksgiving. It is a good time to check your indoor fire extinguishers. The GRRRFD recommends all homeowners have 4-5-pound ABC dry chemical fire extinguishers in the following locations: one on each floor, including unfinished basements or crawl spaces, one in the kitchen, one in the garage, and one in each enclosed out-buildings if you have any.
COVID-19
We're all in this together and need to pull together as a community. Viruses don't care about political or religious views. We will be more successful as a community if we work together in rational ways. PLEASE LOOK AT THE GET INFORMED/EDUCATION SECTION OF THIS SITE FOR MORE DETAILS.
Act Responsibly
Get vaccinated. Vaccination against COVID-19 is free from a variety of sources including pharmacies and physician offices. Vaccinations are the best and most effective way to prevent serious illness due to COVID-19, and the best way to prevent disease spread. Vaccinations are the key to getting America back to work safely. Getting vaccinated is how you prevent yourself from spreading this disease to children–yours and others. If for no other reason, please get vaccinated to protect America's children, and our future.
If you get sick with COVID or respiratory virus symptoms, get tested and stay home–don't spread any respiratory virus around to friends, family, coworkers, or the general public.
The non-vaccine-related things that have the greatest impact in lowering the risk of spreading and acquiring COVID-19 include: mask wearing, hand hygiene, and not going into public when ill. These also contributed to an incredibly light influenza season and will be well worth keeping in mind in future influenza and respiratory virus seasons.
FIRE STATION
For information on the Fire Station Project, please open the Announcements section. Also look in the Get Informed Education section.
---