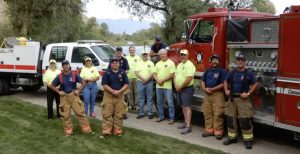 Gallatin River Ranch Fire Department
The Gallatin River Ranch Fire Department provides fire, rescue and emergency medical services for the Gallatin River Ranch Rural Fire District located north of Manhattan, MT. The Fire District was established in December, 1999, by the Gallatin County Commission. The District covers about 9 square miles, 90 structures, and a full-time population of about 150. The GRR Fire Department was then organized under the supervision of an elected Board of Trustees. From 1999 to 2017 the department was run by a paid chief. The fire department changed to an all-volunteer model in May of 2017. The department is led by Chief Marlin Sprow and includes volunteer firefighters as well as reserve and auxiliary members.
BURN BAN 2021
Gallatin River Ranch Fire Department Chief Marlin Sprow enacted a burn ban on 6/14/2021. Open fires are prohibited on GRR including in the Picnic Area fire pit. Fireworks and pyrotechnics of any sort are prohibited.
Permitted fires include: residential grills, fire enclosures, chimeneas, and fireplaces. Do not burn in chimeneas, exterior fireplaces, and residential fire pits and other enclosures on "Red Flag Days", which are typically announced on local media. Make sure fires are attended at all times and are extinguished with water and are cold to touch before leaving the fire.
WE NEED VOLUNTEERS
The GRR Fire Department needs more firefighters, EMTs, and reserve members. Volunteer fire departments like ours are the backbone non-law enforcement rural emergency services. One of the best and most rewarding ways to serve your community is to volunteer to join the fire department. If you are interested, please email us at: info@grrfd.org. For more information, look at the Get Involved section of this website.
WILDLAND FIRE PREPARATION
The wildland fire season has begun. Our department has provided mutual aid for several wildland fires this season before June, and the higher risk portion of the season is yet to come. Projections are for this to be a dry hot summer, with the risk extending into the fall. Gallatin River Ranch and surrounding properties are in the Wildland Urban Interface, where wildland fires are an ever-present danger. It is not a question of if, but when the next wildland fire will affect the GRR Rural Fire District.
The GRR Fire Department recommends that all property owners carry an ABC fire extinguisher in each vehicle, including ATVs and UTVs, to use in event of a fire. Vehicles should not travel off-road and should not travel along roads where un-mowed grass is present in the road bed due to the risk of hot exhaust systems igniting dry grass.
The Bridger Foothills Fire destroyed 68 structures including 30 homes. Residents from the affected area had to evacuate, some or relatively short notice. While conditions on GRR are quite different, the Ranch is at risk for wildland fires. Evacuation orders were issued in the 2015 fire the burned many acres on GRR and threatened homes, though none were lost. These serve as warnings that residents of the GRR Rural Fire District must be prepared for the possibility of evacuation and wildland fire.
GRR Rural Fire District residents should register for the Gallatin County Emergency Notification System at:  https://www.readygallatin.com/public-warning/community-notification-system/. Please explore the Get Informed Education section of this website to review the Evacuation Plan and other information about wildland fire preparation and mitigation. This is particularly important for new GRR Rural Fire District residents.
The Wildland Fire Preparation and Prevention Program was established by the GRRRFD Trustees. A volunteer Wildland Fire Preparedness Committee was formed to facilitate this program. The Committee organized and mailed packets of information to all current GRRHOA owners in April of 2021. Packets have been given to Luna Properties for inclusion in the Welcome Packet the GRR HOA sends to new owners. Information about fire resistant landscaping will be sent to GRRHOA members who apply for Architectural Review Committee building project approval as a reminder.
COVID-19
The COVID-19 Pandemic is widespread. The Delta variant is now the dominant variant throughout the US, including Montana. This variant is much more infectious and appears to be more dangerous: patients get sicker faster and are younger than the previous variants. The good news is that current vaccines are effective in preventing moderate or severe disease from this variant. This adds urgency to the need to vaccinate as many Americans as possible. The GRR Fire Department has developed response protocols and fire department personnel have been trained.
We're all in this together and need to pull together as a community. Viruses don't care about political or religious views. We will be more successful as a community if we work together in rational ways. PLEASE LOOK AT THE GET INFORMED/EDUCATION SECTION OF THIS SITE FOR MORE DETAILS.
Be Informed
The best sources for information on the pandemic and what you should do are posted on the Centers for Disease Control and Prevention (CDC) website, https://www.cdc.gov, and the World Health Organization website: https://www.who.int. Major news organizations such as the New York Times, Wall Street Journal, and Washington Post have maintained timely reporting as have the major TV news outlets. The best source for local information is the Healthy Gallatin website managed by the Gallatin City-County Health Department. Beware of "news", non-expert opinions, other "information" reported on social media and various "non-mainstream media" outlets. Deliberate deception and misinformation has been rampant from these sources. The opinions of various popular television opinion commentators has been inaccurate in many cases throughout the pandemic.
Act Responsibly
Get vaccinated. Vaccination against COVID-19 is free from a variety of sources including pharmacies and physician offices. Vaccinations are the best and most effective way to prevent serious illness due to COVID-19, and the best way to prevent disease spread. Vaccinations are the key to getting America back to work safely. Getting vaccinated is how you prevent yourself from spreading this disease to children–yours and others. If for no other reason, please get vaccinated to protect America's children, and our future.
If you get sick with COVID or respiratory virus symptoms, get tested and stay home–don't spread any respiratory virus around to friends, family, coworkers, or the general public.
The non-vaccine-related things that have the greatest impact in lowering the risk of spreading and acquiring COVID-19 include: mask wearing, hand hygiene, and not going into public when ill. These also contributed to an incredibly light influenza season and will be well worth keeping in mind in future influenza and respiratory virus seasons.
FIRE STATION
For information on the Fire Station Project, please open the Announcements section. Also look in the Get Informed Education section.
---