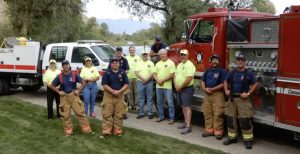 Gallatin River Ranch Fire Department
The Gallatin River Ranch Fire Department provides fire, rescue and emergency medical services for the Gallatin River Ranch Rural Fire District located north of Manhattan, MT. The Fire District was established in December, 1999, by the Gallatin County Commission. The District covers about 9 square miles, 90 structures, and a full-time population of about 150. The GRR Fire Department was then organized under the supervision of an elected Board of Trustees. From 1999 to 2017 the department was run by a paid chief. The fire department changed to an all-volunteer model in May of 2017. The department is led by Chief Marlin Sprow and includes volunteer firefighters as well as reserve and auxiliary members.
NIXON GULCH CLEANUP DAY
NIXON GULCH CLEANUP DAY was held on Wednesday, May 13th. It was very successful. Areas of attention were the upper culvert areas south of the reservoir drainage culvert. Multiple brush dams were removed to improve water flow and to remove driftwood that could block downstream culverts. The bottom culvert near Horseshoe Gulch was cleaned out and other debris was removed. Finally, a number of dead bushes were removed from the roadside that were both unsightly and a fire hazard.
Thanks to the volunteers who stepped up to help including:
Richard Anderson, John Andrews, Nancy Clark, Bill Curran, Ted Draude, Rob Fraser, Rick McCourt, Spencer Millimen, Dennis Ochs, Anthony Powell, Marlin Sprow.
COVID-19
The COVID-19 Pandemic is widespread. The GRR Fire Department has made preparations for the likely arrival of this on GRR. We have developed response protocols and fire department personnel have been trained.
We're all in this together and need to pull together as a community. Viruses don't care about political or religious views. We will be more successful as a community if we work together in rational ways. PLEASE LOOK AT THE GET INFORMED/EDUCATION SECTION OF THIS SITE FOR MORE DETAILS.
Join a Neighborhood Support Team
One thing we can all do is to join the network of GRR Neighborhood Support Teams.
If one of us becomes ill with a respiratory disease and has to quarantine at home, we, as a neighborhood, should do what we can support that person or family. The NSTs are one way to organize the neighborhood response on GRR. The main thing we can do is to provide that person or family with the provisions they need during quarantine by either shopping for them or donating items. There will be no face-to-face contact; therefore, there should be no more infection risk to team members than that associated with food shopping.
These teams are not created to provide medical or in-home caregiver services. If a team member who lives alone is quarantined or chooses to shelter in place, at least one team member should consider checking by phone on a daily basis.
Team Coordinators:
NST Southeast: Patti Draude and Sue Wassersleben
NST Southwest: Vanessa McMurray
NST West: Ken Weskamp
NST Central: John Andrews
NST North: Jorge Gonzalez
If you are able to sew cloth face masks, please consider sharing some with your neighbors. Contact your team coordinator if you have some and want to share.
Be Informed
The best sources for information on the pandemic and what you should do are posted on the Centers for Disease Control and Prevention (CDC) website, https://www.cdc.gov, and the World Health Organization website: https://www.who.int. Major news organizations such as the New York Times, Wall Street Journal, and Washington Post have maintained timely reporting as have the major TV news outlets. Beware of "news" and other "information" reported on social media.
Respect
I respect you by wearing my mask. You respect me by wearing your mask.
I respect you by applying hand sanitizer before I come into a store, your home, or a meeting area where you might be. I protect myself by wearing a face mask and applying hand sanitizer.
Respect this virus. Respect the fact it is readily spread from person to person. Respect the fact that it kills. However, the vast majority of people infected with this virus will live and recover fully.
Respect your family, friends, and neighbors by not sharing the virus with them if you are sick or exposed.
If you are exposed or have symptoms, contact your medical provider or the public health department (406-582-3100) to determine if you need to see a medical provider or have testing. Symptoms can occur between 2-14 days after exposure. Common symptoms include: fever (more than 100 degrees F, and if you don't have one, get a thermometer that works), cough, shortness of breath, loss of the sense of smell, headache, and fatigue. COVID-19 can feel a lot like influenza. Other symptoms include: aching or painful muscles and fatigue; nausea and diarrhea can occur but are rare. Even if you think you "just have a cold" or "It's just the flu", stay at home until you're well and don't share it. Call 911 only for medical emergencies.
Prepare but don't panic
Purchase those things you will need if you have to isolate yourself at home for two weeks, if you haven't already. This is a good idea in rural Montana regardless of COVID-19.  Panic buying emptied shelves for no good reason. Part of this comes back to Respect. Respect the fact your neighbors also need toilet paper, hand sanitizer, and dog food. Don't hoard.
How do I protect myself?
Wash your hands with soap and water for at least 20 seconds after contact with others, after coming back home from the store, after social contact, and before meals. Regular non-bacterial soaps and detergents are very effective in killing this virus. Routine detergent-based laundering of clothing is very effective. The hotter the water the better, depending on the fabric.
Use hand sanitizer with at least 60% alcohol.
Show respect and don't shake hands or hug or kiss cheeks in greeting others.
Avoid crowds. Practice social distancing by staying at least six feet from others. But, don't stop living.
Wear a cloth face mask when in public settings where social distancing may be difficult. Do not wear N95 or surgical masks, save them for the emergency services and health care providers who need them.
Shopping: Consider wearing disposable gloves and a cloth face mask when you go into businesses. For example, don disposable gloves before you grab the handle of the grocery store door, wipe down the cart handle, and shop. When you pick out vegetables, don't touch the vegetables directly. Put your gloved hand on the bottom of the plastic bag, turn it inside out, handle and pick out the vegetable using the inside bag surface, then turn the bag outside in–the same way dog owners use poo bags to clean up. After shopping, take your gloves off after you set your grocery bags in your vehicle, then take off your face mask, then use alcohol-based hand wash when you enter your vehicle, before touching any other surfaces. When you get home, wash your hands before unpacking your groceries. Then wash them again after you are done putting the groceries away. Machine wash the clothing you wore and your face mask. That may all seem excessive, but it will protect you and your family.
Avoid touching your face in social circumstances. This is easier said than done!
Look at the Get Informed/Education section of this website for more details.
WE NEED VOLUNTEER FIREFIGHTERS!
We need able-bodied adults over the age of 18 to join our fire fighting force. Volunteer firefighters are our community's first line of defense against fires and other emergencies. Please consider helping us protect our community! Contact us at info@grrfd.org for more details.
FIRE STATION
For information on the Fire Station Project, please open the Announcements section. Also look in the Get Informed Education section.
---