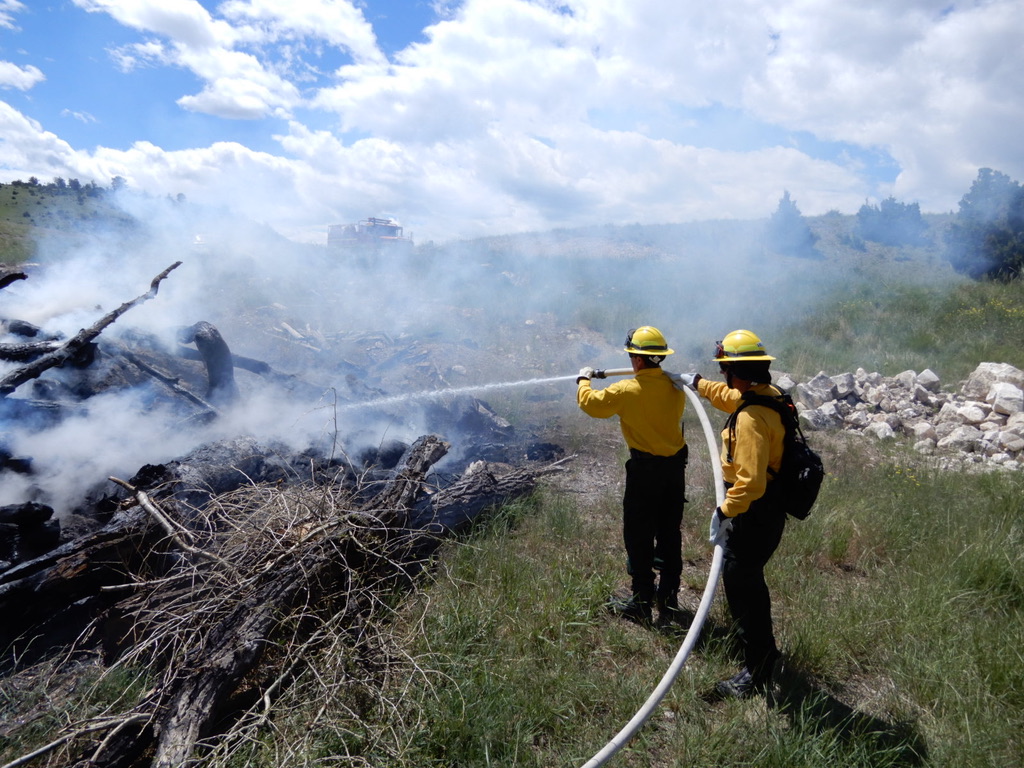 Gallatin River Ranch Fire Department
The Gallatin River Ranch Fire Department provides fire, rescue and emergency medical services for the Gallatin River Ranch Rural Fire District located north of Manhattan, MT. The Fire District was established in December, 1999, by the Gallatin County Commission. The District covers about 9 square miles, 90 structures, and a full-time population of about 150. The GRR Fire Department was then organized under the supervision of an elected Board of Trustees. From 1999 to 2017 the department was run by a paid chief. The fire department changed to an all-volunteer model in May of 2017. The department is led by Chief Marlin Sprow and includes volunteer firefighters as well as reserve and auxiliary members and the Wildland Fire Preparation and Prevention Committee.
FIRE STATION PROJECT
The Board of Trustees approved a project budget of $450,000 at their 5/11/22 meeting. Manhattan Bank will provide financing and 406 Custom Builders has been selected as the builder. Construction began on 7/21/22. Please look at the Gallery: New Fire Station section to follow the progress of the building process.
The GRRRFD Fire Station will house Engine-11, Brush 11-1, Tender-11, and Utility-11 in a location less than five road miles from every dwelling on GRR. This is the optimal location and configuration to meet the fire and emergency services needs of the GRRRFD community. The Fire District will devote around $150,000 in available funds to the project. A Fundraiser Campaign to reduce the amount of bank financing required to pay for this critical community safety project is underway. Please consider making a tax-deductible donation (under section 170(c)(1) of the IRS code), and mail it to GRRFD, PO Box 109, Manhattan, MT 59741.
BURN BAN EFFECTIVE 7/19/2022
Gallatin River Ranch Fire Chief Marlin Sprow has declared a burn ban on GRR. This is consistent with the bans enacted in surrounding fire districts. This ban will be in effect until Chief Sprow announces an end to the ban, likely in the later in the fall.
The GRRHOA Outdoor Burning Policy states: Homeowners may have a permanent or portable recreational fire pit. These must meet all county codes. Homeowners must adhere to all county burn regulations, including temporary burn bans during fire season, and at other specified times. Covenant 7.2(g) prohibits external burning of refuse or other materials. Burn barrels are not permitted.
The weather is hot, winds are unpredictable, and fuels are very dry. The fire danger is high and becomes very high on "red flag days" which are reported by local news station weather reports.
This ban includes fires in the picnic area fire pit.
Use of the picnic area grills are permitted as long as you make sure the fire is completely extinguished with water and coals are cold to touch before you leave.
This ban does not include supervised home grills.
This ban does not include fires in home fire pits, chimeneas, or outdoor fireplaces at GRR residences with the following precautions:
Don't start an open fire in windy conditions, especially if the wood is prone to sparking.
Don't use them on declared Red Flag Days.
Use a screen over your fire device/pit.
When done, douse the coals until cool to touch, and place a solid cover over your device/pit.
Please consider equipping your vehicles with fire extinguishers. A small spark- or exhaust system-caused fire can be easily stopped with an extinguisher and prevent a much larger fire.
SAFETY TIPS FROM THE GRR FIRE DEPARTMENT
SEPTEMBER 2022
The wildland fire season is in full swing in September. The fire danger level on 9/1 is EXTREME. A BURN BAN remains in place in the GRR Rural Fire District.
Parched grasses and other fuels burn hot and fast, especially on hot, windy days. "Red Flag Days" are the most hazardous. While grills are OK to use, avoid open fires in pits unless they are covered by spark-retarding screens. Mow only green areas on your lawn and perimeter this month since sparks from mower blades hitting rocks can start a wildland fire. Remove or kill tumbleweeds such as Russian Thistle and Kochia. Do not dispose of property waste in the reservoir quarry area. Avoid driving on roads where grass and weed have overgrown the road center and avoid parking in places where hot exhaust systems might come in contact with dry vegetation. Carry a 4- or 5-pound fire extinguisher in each vehicle for emergencies.
Consider getting a free Wildland Fire Risk Assessment from the GRR Fire Department. Contact Chief Sprow [email protected], or email [email protected] to set up an appointment.
Check out the Getting Informed section of this website for more information about wildland fire preparedness recommendations: http://www.grrrfd.org/get-informed/.
Construction on the new GRR Fire Station is underway. Check the New Station photo gallery to follow the progress.
PLEASE DONATE
The GRR Rural Fire District is working on several projects that will significantly enhance safety for the people it serves. These include the Fire Station Project and the Water Source Project. Bids have been solicited for each project. The GRRRFD needs your help. Please consider donating to the GRRRFD. All donations will be used to defray the costs of the Fire Station Project. Donations to GRRRFD are tax-deductible under Section 170(c)(1) of the IRS Code. Please send donations to: Gallatin River Ranch Rural Fire District, PO Box 109, Manhattan, MT 59741. Thank you for considering us in your charitable giving plans!
WE NEED VOLUNTEERS
The GRR Fire Department needs more firefighters, EMTs, and reserve members. Volunteer fire departments like ours are the backbone non-law enforcement rural emergency services. One of the best and most rewarding ways to serve your community is to volunteer to join the fire department. If you are interested, please email us at: [email protected] For more information, look at the Get Involved section of this website.
GRRRFD WATER SOURCE PROJECT
The GRRRFD is adding a new firefighting water source at Castle Rock Pond, and plans to add to its capacity to access water from Mossy Rock Pond.
The Castle Rock Pond project is underway. A 6-inch pipe was trenched into the pond with a siphon at the end of underwater portion of the pipe. The pipe "daylights" with a "dry hydrant" in a location accessible to fire engines. We have a dry hydrant like this next to the pump house at River Camp. This project significantly improves water availability on GRR. This adds to the Fire District's effort to improve the quality and effectiveness of fire protection on GRR. At its fullest, this pond is estimated to contain 2.2-million gallons. At its emptiest, it is probably less than a million but at least 500,000 gallons.
Mossy Rock Pond already has a 6-inch pipe that goes from the pond bottom to the pump house across the road from the pond. The GRRFD is evaluating ways to add one more point for water withdrawal from this pond. This project will probably be done in the spring of 2022. This well-fed artificial lined pond contains about 1.1-million gallons.
CASTLE ROCK POND WATER SOURCE PROJECT  DRY HYDRANT FOR WATER SOURCE PROJECT
WILDLAND FIRE PREPARATION AND PREVENTION
Wildland fires are a year-round risk due to persistent drought and warming. They can occur any month when conditions are right.  It is not a question of if, but when the next wildland fire will affect the GRR Rural Fire District.
The GRR Fire Department recommends that all property owners carry an ABC fire extinguisher in each vehicle, including ATVs and UTVs, to use in event of a fire. Vehicles should not travel off-road and should not travel along roads where un-mowed grass is present in the road bed due to the risk of hot exhaust systems igniting dry grass.
GRR Rural Fire District residents should register for the Gallatin County Emergency Notification System at:  https://www.readygallatin.com/public-warning/community-notification-system/. Please explore the Get Informed Education section of this website to review the Evacuation Plan and other information about wildland fire preparation and mitigation. This is particularly important for new GRR Rural Fire District residents.
The Wildland Fire Preparation and Prevention Program was established by the GRRRFD Trustees. A volunteer Wildland Fire Preparedness Committee was formed to facilitate this program. The Committee organized and mailed packets of information to all current GRRHOA owners in April of 2021. Packets have been given to Luna Properties for inclusion in the Welcome Packet the GRR HOA sends to new owners. Information about fire resistant landscaping will be sent to GRRHOA members who apply for Architectural Review Committee building project approval as a reminder.
---
Upcoming Events
10/12/22 BOARD OF TRUSTEES MEETING

Wed. Oct. 12th, 2022 @ 4:10pm
View More 
---