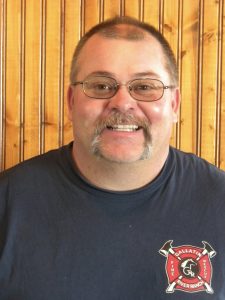 Marlin Sprow
- Chief
Chief Marlin Sprow joined the department as a volunteer when it formed in December, 1999. Over the years he has risen through the ranks through hard work and a series of basic wildland, firefighting, BLS with AED, and leadership courses.  His 'day job' is Gallatin River Ranch Homeowner Association Road Manager. As such, he knows the Gallatin River Ranch Rural Fire District like the back of his hand. His knowledge, experience, and know-how led to the decision to appoint him Fire Chief on 5/12/2017.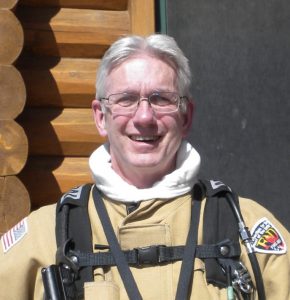 John Andrews, MD, EMT
- Volunteer, Medical Officer, Executive Assistant
John Andrews was appointed Executive Assistant to the Board of Trustees in March 2017 and to the same role for the Department in May 2017. He joined the department in June of 2017 as a volunteer firefighter and was appointed Medical Officer in 2018. He is licensed as both a physician and EMT in Montana. A retired physician, he is board certified in Internal Medicine, Sleep Medicine, Pulmonary Medicine, and Critical Care Medicine, he is BLS and ACLS certified.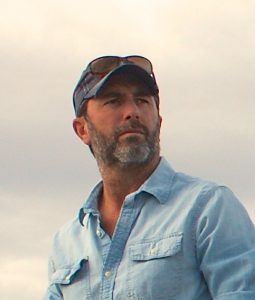 Bruce Reynolds
- Volunteer
Bruce Reynolds joined the Reserve Member Team in June of 2018. He joined the ranks of active firefighters on 3/20/19. He moved from Missoula MT to the GRR in 2016, and is an avid wildlife and outdoor adventure photographer.  A self proprietor consultant specializing in commercial historic renovations with a 30 plus year background in the construction industry.
ANGIE STEWART, EMT
- Reserve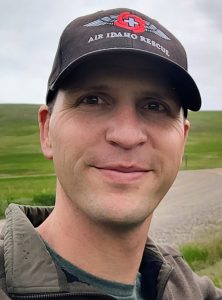 Nick Derene, AEMT
-
Nick Derene earned his BS in Aviation, then studied Wildlife Biology in graduate school focusing on Birds of Prey and wildlife rescue/rehabilitation. After nine years working in wildlife biology and education, Nick took a position with the Department of Interior where he spent 12 years working in MT, ID, WY, UT, AZ, and TX as a Federal Law Enforcement Officer, Medic, Wildland Firefighter, Structure Firefighter, and on Search and Rescue operations, including five years as a supervisor. Nick holds several instructorships in these fields and currently works with the Montana Highway Patrol. Nick joined GRRFD in 2022.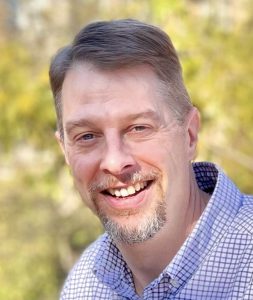 Ed Klotz
-
Ed Klotz moved with his family from Atlanta to Montana in August of 2022.  After serving nearly a decade in the Air Force with the White House Communications Association (WHCA), Ed continues to run an IT Consulting firm based in Atlanta and is currently focused on expanding to the Bozeman area.  Ed has a BS in Business Management and over 20 years in the IT industry.  He joined the reserve in October of 2022 in order to give back to the community.
Donna Knecht, RN
-
Donna Knecht has worked as a Registered Nurse for many years in Illinois and has an active RN license in Montana. She graduated from Valparaiso University with a BSN degree and worked in a wide range of nursing settings including adult and pediatric rehabilitation, ortho/neuro oncology, and as a school nurse. She joined the Reserve in May of 2022.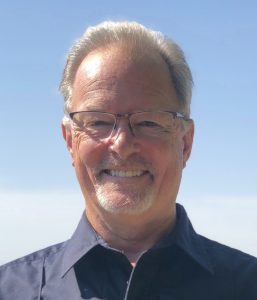 Rick Davis, MD, EMT
- Reserve
Rick Davis, M.D. is licensed to practice medicine in the State of Montana. He is a retired Internal Medicine physician who graduated with his M.D from the University of Illinois in 1975, did an internal medicine residency at the University of Wisconsin Hospitals and Clinics, and practiced medicine in Barrington, Illinois before retiring in 2020, when he moved to GRR. He joined the GRRFD Reserve in 2021. He completed his basic EMT training after joining the department and is a Registered EMT-Basic.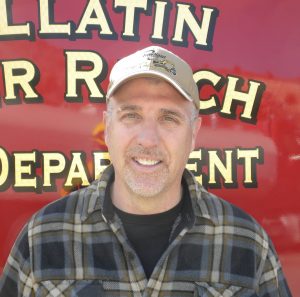 Spencer Millimen
- Trustee, Board of Trustees Chair, Reserve Volunteer, Reserve Volunteer Supervisor
Spencer Millimen was appointed to the Board of Trustees in January, 2017 and became Vice Chair. He became Reserve Volunteer Supervisor in March 2018. He was elected Board Chair in May 2019. His professional background was in law enforcement before moving to Montana. He retired from his position as a detective with the Columbus, Ohio, police department in 2015.
Bruce Buccilli
- Reserve Member
Bruce Buccilli retired from his work as a union electrician in Philadelphia and moved to GRR. He joined the GRRFD Reserve in 2018.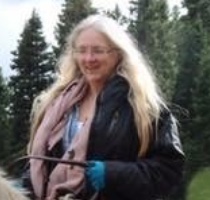 Julie Brown
- Reserve Member
Julie Brown joined the GRRFD Reserve on 3/20/19. She moved to Montana from Florida in 2018 and works as a contract specialist at Montana State University. She worked for the Florida Department of Transportation and brings a wealth of administrative skills and experience as well as temporary traffic control management.
Barb Cattaneo
-
Barb is a long-time resident of GRR who joined the Auxiliary in the spring of 2022.
Bev MacMillan
-
Bev joined the Auxiliary in 2022. She is a long-time resident of GRR and knows the community well.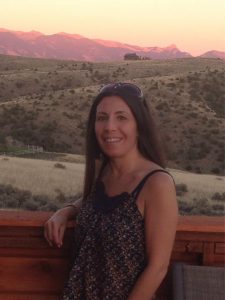 Maria Fraser
- Auxiliary
Maria Fraser joined the auxiliary in the Spring of 2018. She is a United flight attendant and has BLS CPR training. She has been instrumental in organizing fundraising and Fire District quarterly social engagement events. She has helped organize the Auxiliary in the event this component of the department is needed to provide help and aid during a fire incident.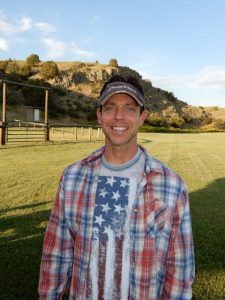 Rob Fraser
- Auxiliary Member
Rob Fraser joined the GRRFD Auxiliary Team in the spring of 2018. He was born and raised in Northern California, and enjoys the outdoor activities Montana has to offer, especially hiking and fishing. He has flown for over 30 years and is currently a Captain with JetBlue, flying Airbus A320 and A210 aircraft. "The GRR is a great community to be part of and I look forward to working with our Fire Department Auxiliary."
Vanessa McMurray
- Auxiliary member
Vanessa joined the GRRFD Auxiliary in 2019. She had worked in an administrative capacity at Advanced Eyecare Associates in Belgrade prior to retirement. She provided much-needed help in the Fire Station Fundraiser in 2019 and is a Neighborhood Support Team coordinator.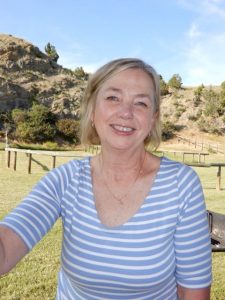 Patti Draude
- Auxiliary Member
Patti Draude joined the GRRFD Auxiliary Team in the spring of 2018. Patti retired after a long career in education.