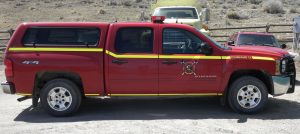 Command-11 is a 2012 Chevrolet Silverado K1500 crew cab 1/2-ton pickup with a topper. It was purchased new on 7/5/2012 at a cost of $38,294. This vehicle is used by the Fire Chief for incident command and other non-emergency purposes.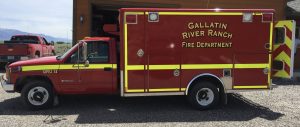 Quick Response Unit (QRU)-11 is a 1994 Chevrolet 3500 diesel ambulance acquired from the Department of Defense on 3/17/2010 with an odometer reading of 32,248 miles. Originally used as an Air Force ambulance, it now serves as our medical QRU. It also carries a variety or rescue tools including the "jaws of life". It is State-approved for limited patient transport, but only to intercept with a licensed ambulance, not hospital transport. Gallatin River Ranch Fire Department is licensed as a Non-Transporting Basic Life Support with Authorization for Advanced Life Support Service.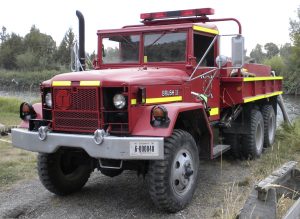 Brush 11-2 is a 1989 AM General M35A2 diesel cargo truck that was acquired from the Department of Defense on 4/7/2009 with 1,293 miles on the odometer. The department modified this "6×6" truck with paint, reflectors, lights, sirens, and radios. Marlin Sprow fabricated a 1,100-gallon tank and attached a gasoline pump and hose reel on the back. This vehicle is used for wildland firefighting and is not kept in service during the winter months.

Engine 11 is a 1995 International Model 4900 Type 2 engine purchased on 3/4/2007 for $103,000, with 13,776 miles on the odometer. It has a diesel engine and is all-wheel drive with a 1500-gallon tank and a 1250 gallon per minute pump. The cab is an older design that can accommodate up to three firefighters not wearing SCBA.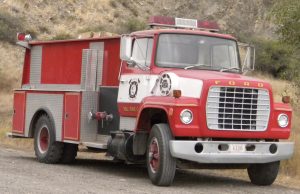 Tender 11 is a 1979 Ford F800 tanker that was purchased  for $10,000 on 6/17/2004 with 38,313 miles. It has a gasoline engine, three-person cab, a 1250-gallon tank and a 500 gallon per minute pump.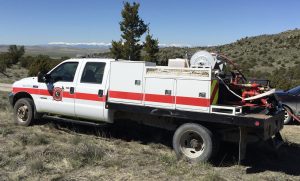 Brush11-1 is a Type 6 wildland firefighting vehicle purchased money from a fundraiser in 2016. It is a 2004 Ford F450 crew cab-based vehicle that had 68,129 miles when purchased. It has a 250-gallon tank and an 83 gallon per minute pump. It is primarily used for wildland operations, but is kept ready year-round supplemental use in other fires as needed.

The Gallatin River Ranch Homeowner Association water tender is available for use by the Gallatin River Ranch Rural Fire District through a memorandum of understanding. It is a 4000-gallon 1985 Peterbilt truck. It is equipped to load water into other firefighting engines and has a top-mounted water cannon that can be operated from the driver position in the cab. It has a rear-mounted hose reel and can also spray water from the front and rear bumpers. It is not available to travel outside Gallatin River Ranch.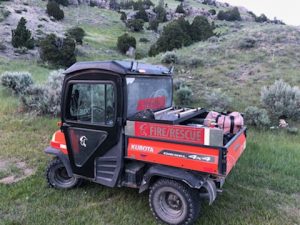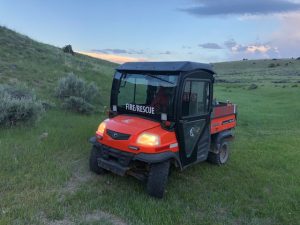 Utility-11 is a 2009 Kubota RTV 900 that was acquired from the Department of Defense in 2016. It has been extensively modified by Ken Weskamp to serve the department need for an off-road vehicle for use in patrolling, inspection, firefighting, rescue, and EMS activities. It carries basic wildland firefighting tools and a small water supply as well as a fire extinguisher.